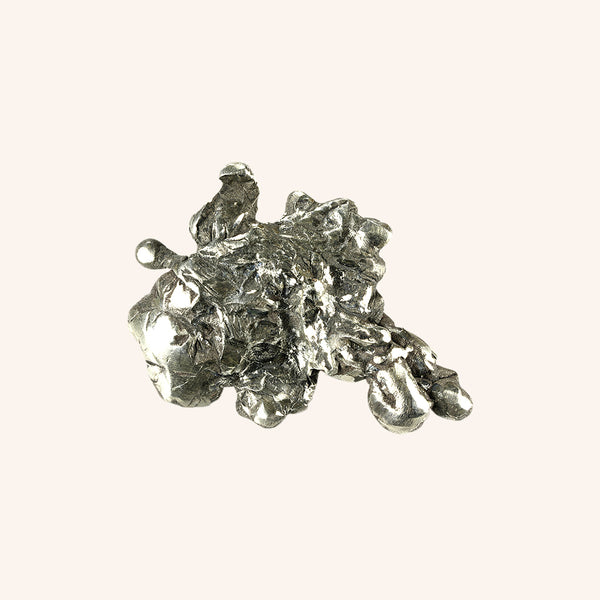 Element: Ag
Colour: Grey
Moh's Hardness: 2.5 - 3
Anniversary: 25th
Silver has long been valued as a precious metal and has a long historical use in jewellery across many cultures. It is a suitable metal for most jewellery that is worn occasionally, but not for wedding bands and engagement rings as it is too soft for years of daily wear. Silver is a good choice for most other types of jewellery and has a wonderfully long history in jewellery and metalsmithing. It also exhibits the highest electrical and thermal conductivity and reflectivity of any metal.
History
Silver has a long history reaching back some 5000 years to Anatolia where it was first mined in what is now modern day Turkey. It has antibacterial properties and is used in water purification and medicine. During the Bubonic Plague, the wealthy ate off silver plates and used silver cutlery, hence the origin of the phrase "born with a silver spoon in your mouth". Importantly, silver was used as currency by many cultures for thousands of years, and it is only in the middle of last century that it started to be removed from circulation.
Care
Sterling silver is prone to oxidising, meaning a blackening of the surface. This can be easily cleaned off with professional jewellery cleaning compounds and treated cloths you can readily buy. Silver is considered soft as it can be dented if knocked, scratched with abrasives and will wear away with many years of wear. Be mindful to wear your silver jewellery with care and should you need to, see the gallery about repairs and to check gem settings are secure as time passes.
Finishes like oxidisation, whitening and plating are not permanent; how long they last depends on the individual, the design of the piece and the amount of wear. They can, however, be reapplied - drop us a line if you'd like to refresh the finish on your silver piece. To maximise the lifespan of these more delicate finishes, be careful to avoid chemicals and anything abrasive. It's best to take these pieces off when swimming or showering, gardening or washing dishes.
Silver Pieces